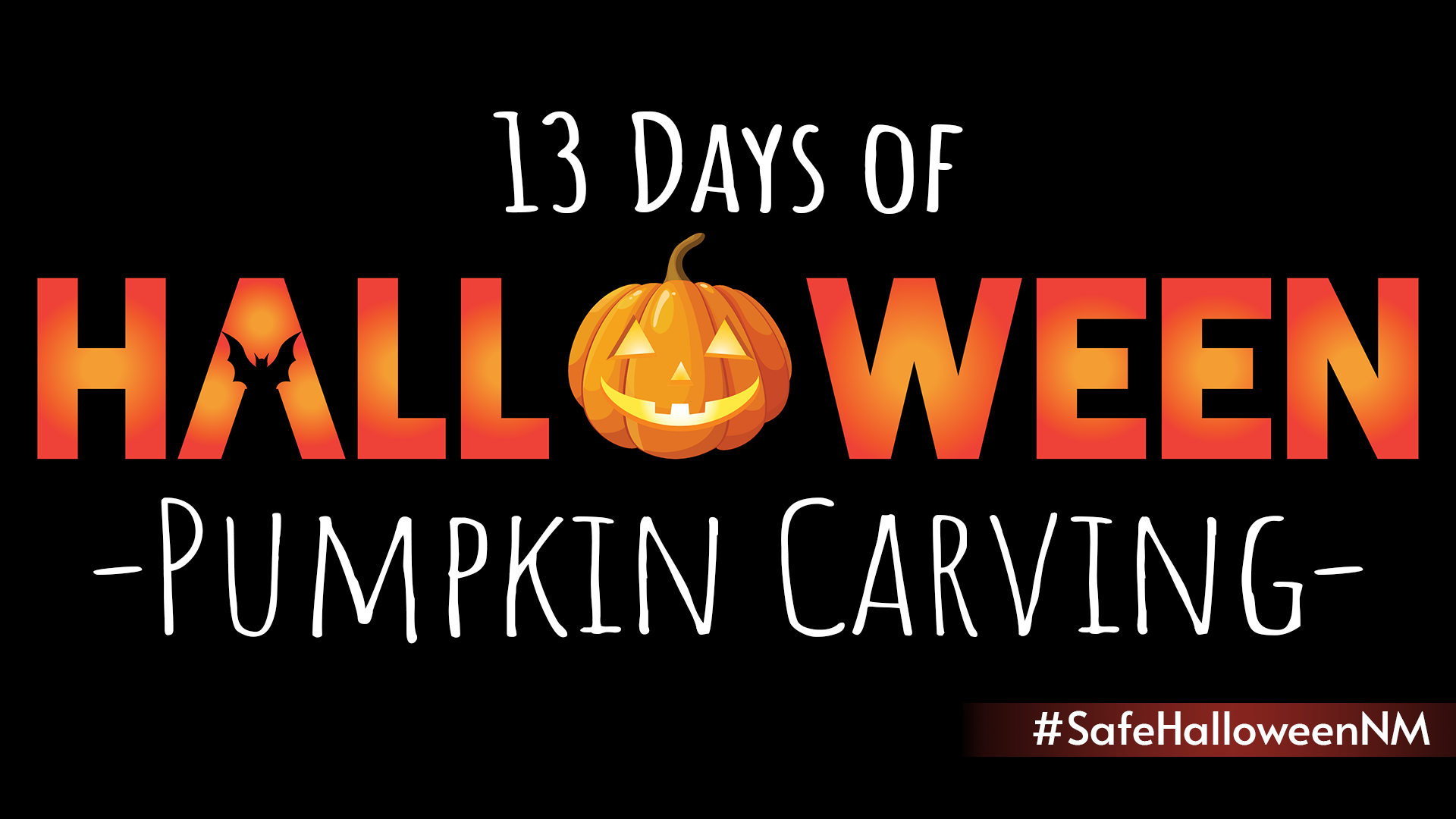 Carve a Jack-o-lantern
Enough said.  Show off your pumpkin carving skills at TogetherNM.org. #SafeHalloweenNM
9 TIPS FOR LONG-LASTING JACK-O'-LANTERNS
1. A STEM IS A LIFELINE
The ideal pumpkin has a good length of firm stem that is still attached, and this should not be shriveled.
A firm, lengthy stem continues to provide nutrients. It's still being nourished by this portion of the vine, making it less vulnerable to rotting than its stemless counterparts.
2. BLEMISHES ARE RED FLAGS
Bruises, cuts, and scars are stress indicators that may mean an early decline. For the longest possible life your selection should have the least blemished skin.
3. GO GREEN
A pile of orange, red and green pumpkins for Halloween in various shapes. An unripe fruit or vegetable lasts longer than a ripe one, so pass on the orange and go for the greenest one you can find for a fresh funky look.
4. SQUEAKY CLEAN
When you get home, wash the skin with an antibacterial dish detergent or hand soap and thoroughly dry it to remove rot-inducing debris and bacteria.
5. A BACK DOOR INSTEAD OF A LID
Instead of slicing off the top to reveal the "guts" inside, cut an opening in the back of your pumpkin. Remove the piece and notch a thumb-sized hole out of the edge for easy grasping and convenient access to the cavity. By leaving the stem in place, nutrient feeding continues for the bulk of the vegetable.
6. SIMPLIFY DESIGNS
An intricately carved green and orange pumpkin on a tree stump, with fall foliage in bright sunshine in the background. Carve ornate designs at the last minute, because more cuts mean more rapid decay.
The techniques of thinning and removing skin, as well as making many intricate cuts, increase vulnerability to rotting. The first to go will often be the ones with the least holding them together.
7. FRESHEN UP WITH BAKING SODA
To absorb moisture and odors, place a cup of baking soda inside the clean cavity. For safety, remove it while the pumpkin is lit with a candle. You may leave it in if you're using battery-operated lighting.
8. ELEVATE ON A PLATE
Instead of putting your Halloween masterpiece directly on the ground, put it on an old plate to prevent moisture absorption and insect burrowing.
9. LET JACK SLEEP INDOORS
To avoid exposure to excess moisture from morning dew and frost, bring your carved creation inside for the night. Keep it in a cool, dry location until you wish to display it outdoors again.
A small, smiling carved pumpkin with colorful autumn trees in the background.
By following these tips, you'll get the most bang for your pumpkin buck. Barring a spike in humidity or a plunge to freezing temperatures, you may not notice decay for a week or more.
Submit Your Photos
Please use the form below to submit your photos.