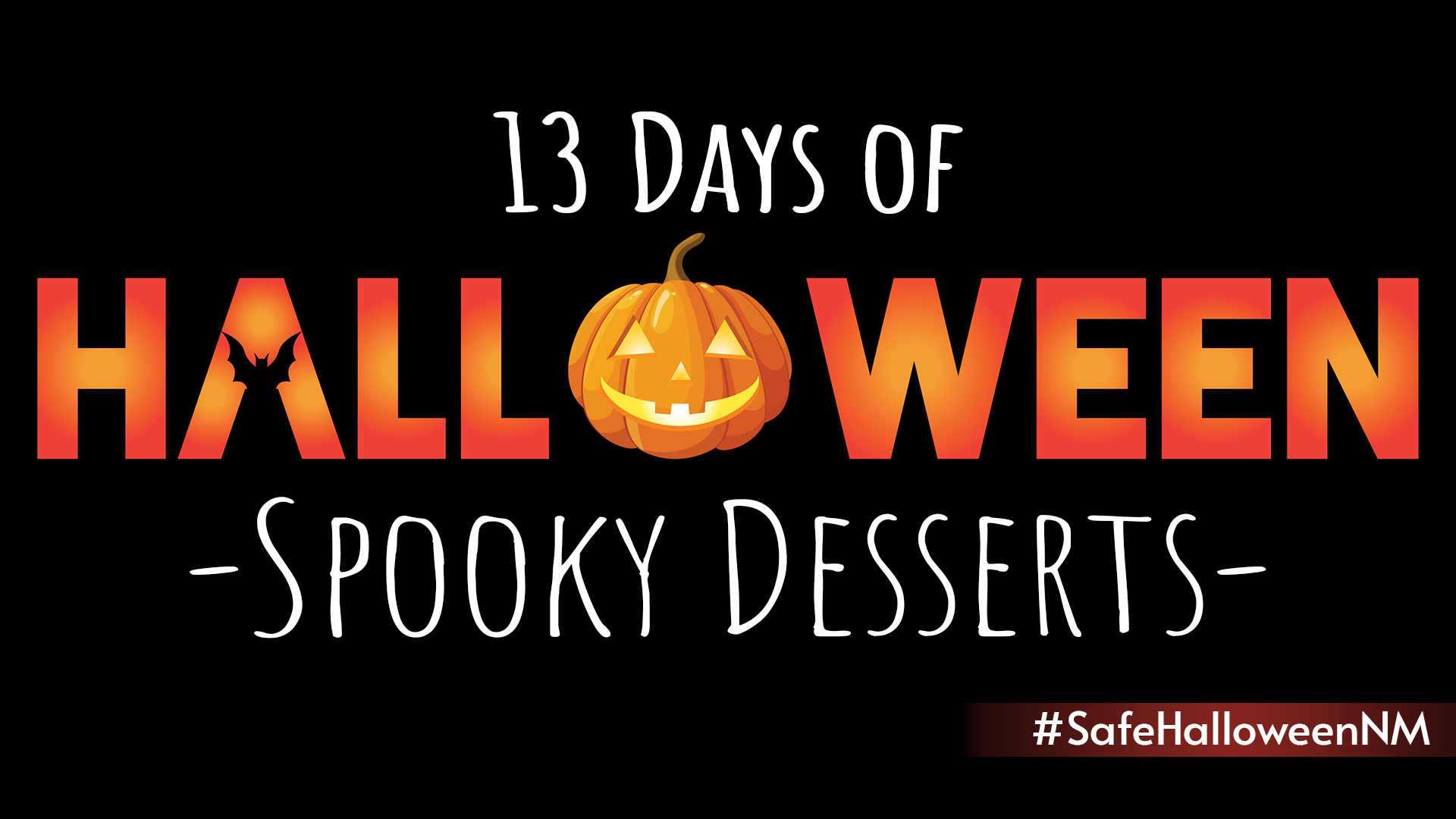 Spooky Dessert
Mmmmm who wouldn't love a Boo Brownie?! Check out some of these spooky dessert recipes. They're easy and fun to make with the kids. Post a photo of your creation at TogetherNM.org. #SafeHalloweenNM
Bloody Band-Aid Cookies
INGREDIENTS
Graham Crackers
White Frosting
Red Decorator's Gel
INSTRUCTIONS
Break graham crackers into eight sections. Smear on white frosting of your choice and one drop of red decorator's gel is enough (it runs).
Serve on a plate with real Band-Aids box.
Spooky Boo Brownies
INGREDIENTS
1 box (16 oz) brownie mix (water, vegetable oil and egg if called for on brownie mix box)
1 cup creamy white frosting (from 16-oz container)
16 large marshmallows
black decorating gel (from 0.68-oz tube) 
INSTRUCTIONS
Make and bake brownies as directed on box for 8- or 9-inch square pan. Cool completely on cooling rack, about 1 1/2 hours. Freeze in pan 15 minutes. Remove brownies from pan and cut into 4 rows by 4 rows.
Heat frosting in microwavable bowl uncovered on High 20 to 30 seconds, stirring every 10 seconds, until frosting can be stirred smooth and fluid. If frosting becomes too firm while decorating, microwave 5 seconds and stir.
Top each brownie with 1 large marshmallow. Spoon 1 tablespoon frosting over each marshmallow to coat. Let stand until frosting is set, about 30 minutes. Use black gel to make eyes and mouths.
Candy Corn Krispie Treats
INGREDIENTS 
For the yellow ring
4 1/2 cups rice krispies cereal
5 cups mini marshmallows
3 tablespoons butter 
For the orange ring
2 3/4 cups rice krispies cereal
3 1/2 cups mini marshmallows
2 tablespoons butter 
For the white center
2 cups rice krispies cereal
2 1/2 cups mini marshmallows
2 tablespoons butter
Yellow food coloring
Orange food coloring
INSTRUCTIONS
Assemble your ingredients and gather 2 large bowls (one must be microwave safe), two rubber spatulas, two 8″ cake pans and non-stick cooking spray.
Have a stick of butter out, which you will need to use to grease your hands as you handle the krispie treat mixture.
Spray the cake pans with non-stick spray and set aside. Also, lightly spray two rubber spatulas with cooking spray. 
Start with the yellow ring
Add 5 cups mini marshmallows and 3 tablespoons butter to a large, microwave safe bowl.
Microwave the butter and marshallows about 3 minutes, or until warm and very puffy.
In another large bowl, measure 4 1/2 cups rice krispies cereal.
Carefully remove marshmallows from microwave and add yellow food coloring (I used 2 drops to start).
Stir the melted marshmallows, butter and coloring until smooth and fully combined. Immediately, pour the marshmallow mixture into the bowl with the cereal. Use an oiled spatula and stir quickly until fully incorporated.
Divide yellow rice krispie mixure between the two cake pans, and use your hands to create a "ring" around the inside edge of the cake pan (as shown below), about 1 1/2 inches wide. Rub a bit of butter on your hands as necessary to prevent the mixture from sticking to your hands. Work quickly, as the mixture is more difficult to mold as it cools.
Wash your bowls and spatulas and repeat the same process with the ingredients for the orange ring, and then the white center.
Once your three colors are pressed into the pans, allow to fully cool and set, at least 30 minutes. When you want to cut the triangles (candy corn shapes), flip over your cake pans onto a cutting surface, and tap pan on cutting board to remove krispie treat round. Cut the round large round in half, then quarters, then cut each quarter in half.
To add a cookie stick, or paper straw (as shown), first create a hole with a wooden skewer.
Submit Your Photos
Please use the form below to submit your photos.